R.D. MEMORIAL COLLEGE OF NURSING, BHOPAL
Bhadbhada road, Barkhedi kalan,Bhopal-462044
E-mail: rdmcnursing@gmail.com
Tel.: 0755-2696776, Mob.: 9303133077
MESSAGE FROM CHAIRMAN DESK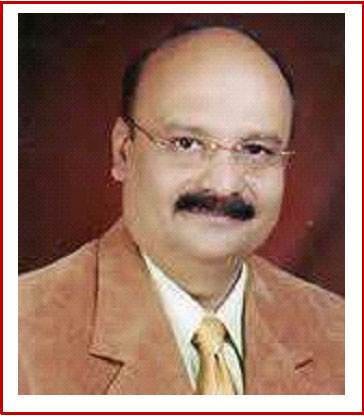 Our College is expected to provide an intellectual, social and physical environment in which scholarship and learning may thrive. It is a prime center for nursing in the capital, which happens to be the city of Lakes. It offers you the best opportunity for professional education and research programmes of high standard. I Assure You for the beautiful campus, well equipped laboratories and the excellent faculty in the department will encourage young aspirants to pursue their academic and social goals with joy.
MESSAGE FROM PRINCIPAL DESK
Dr. DOLLY JOHN SHIJU Ph.D.(N) M.Sc.(N)
Students are the most important assets of the College. Starting with College is the beginning of a new chapter of life. Students enter College with lots of hope and dreams to fulfill along with some hidden fear. Students need to be provided with a safe and secure environment which is conducive for their overall development.They need to understand the disciplinary policies of the College. We R.D. Memorial college of nursing strongly believe that everyone has hidden talents. What is required is little inspiration and wisdom. It is not about perfection but effort is important Clearly stated rules and regulations bring clarity on what is expected. It's very important to be aware of grievance redressal system and important committees constituted for the benefit of students including Internal Complaint Committee and Anti ragging Committee. Students need to be informed about their rights and responsibilities. They also should be well versed with the University regulations. Active participation of students in governance helps prohibit violation of policies and improve the quality of education. I hope this handbook on Code of Conduct for Students will bring more clarity in the functioning of the College.
R.D. Memorial college of nursing envisions preparing nursing professionals of world class standards who will constantly endeavor to provide quality and compassionate nursing care create positive work environment that fosters & support professionals growth and all round development of all students establishing the standards for excellent academic and professional nursing practice, nursing research and leadership in the advancement of the profession.
To make learning and exciting experience that inspire learners to reach their full potential as life long learners through use of advance
To foster synergy and integration between research, education and practice by promoting inter- disciplinery collaboration and
To promote professionalism by quality and value drive education with a global outlook .
To train young professionals for leadership to respond to the health care needs of the community.
R. D. MEMORIAL COLLEGE OF NURSING, BHOPAL (M.P.)
Add Your Heading Text Here
Neelima Rani Chourasia (B.sc I Year)
Prof. Sushma Thakre (B.sc II Year)
Prof. Neelam Awasthi (B.sc III Year)
Sangeeta Chilhate (B.sc IV Year)
Ms. Christina Valvi (IV Year B.sc Nsg) Ms. Sanjana Maravi (III Year B.sc Nsg)
To promote and encourage good behaviour among the teaching and non- teaching staff and students.
To serve as model in terms of character training and behaviour for students and staff .
To assist the students and staff in conforming to school rules and
To help students and staff to develop self-discipline. .
To ensure code of research
Academic And Administrative Staff
Academic and administrative staff will follow code of conduct
The governing body should act to approve the mission and strategic vision of the institution, long-term academic plans and ensure that these meet the interests of stakeholders, including students, local communities, Government and others representing public interests.
The body is formed to monitor institutional performance and quality assurance arrangements which should be, where possible and appropriate, benchmarked against other institutions.
Governing bodies ensure compliance with the statutes, ordinances and provisions regulating their institution, including regulations by Statutory bodies, such as INC, as well as regulations laid out by the State government and affiliating university.
The governing body should ensure that non-discriminatory systems are in place to provide equality of opportunity for staff members and students.
The governing body should actively monitor that the Institution implements the requirements of State and National Governments for reservations of seats and staff positions and provide required support to minority groups.
The general principle of transparency of the governing body applies that students and staff of the institution should have appropriate access to information about the proceedings of the Governing body. All sorts of agendas of meetings, draft minutes (if cleared by the chair) and the signed minutes of governing body meetings together with the papers considered at meetings should generally be available for inspection by staff and students.
The Principal of a college has got multifaceted roles to play and to shoulder multilateral responsibilities such as academic, infrastructural, adjudicator, inspirer and financial. As the Academic and Administrative Head of the Institution the Principal remains liable to follow certain codes of ethics in his conduct as proclaimed by the University Grants
Students have to be punctual for assembly.
Every student must have put in a minimum of 80% of attendance separately for theory and practical's to be eligible for University Examination.
Attendance shall be taken before each lecture, practical class or clinical.
Students are not permitted to remain in the class rooms except during the hours of instruction.
Student should not be absent from the class without leave unless such absence is satisfactorily explained or informed prior.
Ragging in any form is a criminal offence, and will be dealt with all seriousness. Any such activities will be reported to the police and the students indulging in ragging will be expelled from the college.
Students on the role of the college are forbidden to take any active part in political agitation against the authority of the management / government. Students of this college getting involved in activity that may interfere with the co-operative life and educational work of the college will be liable to be suspended or expelled from the college by the Principal.
Mobile phones are strictly prohibited in the college campus and student found to have violated
the rule are under disciplinary action as per policy.
Students are forbidden to affix posters, display materials and other articles on the walls of the
college buildings.
* The Library time will be during college timing.
* Students should handle the library books carefully and should return the books without any damage.
* Any damage to the book issued will be viewed seriously.
* Student should maintain silence inside the Library.
* In case of any missing of books, students should replace the books within the prescribed time. Student should contact Librarian for any matters related to Library or books.
* Students should carefully handle the books, furniture, lights and fans inside the Library.
* Student should maintain cleanliness inside the Library.
* Use of Mobile phones are strictly prohibited in the Library.
* The Library committee will periodically review the current status of the Library.
1. THE NURSE RESPECTS THE UNIQUENESS OF INDIVIDUAL IN PROVISION OF CARE
1.1 Provides care of individuals without consideration of caste, creed, religion, culture, ethnicity, gender, socio-economic and political status, personal attributes, or any other grounds
1.2 Individualizes the care considering the beliefs, values and cultural sensitivities
1.3 Appreciates the place of individual in the family and community and facilitates participation of significant others in the care.
1.4 Develops and promotes trustful relationship with individual(s).
1.5 Recognizes uniqueness of response of individuals to interventions and adapts accordingly.
2. THE NURSE RESPECTS THE RIGHTS OF INDIVIDUALS AS PARTNER IN CARE AND HELP IN MAKING INFORMED CHOICES NURSES
2.1 Appreciates individual's right to make decisions about their care and therefore gives adequate and accurate information for enabling them to make informed choices
2.2 Respects the decisions made by individual(s) regarding their care
2.3 Protects public from misinformation and misinterpretations
2.4 Advocates special provision to protect vulnerable individuals/groups.
3. THE NURSE RESPECTS INDIVIDUAL'S RIGHT TO PRIVACY, MAINTAINS CONFIDENTIALITY, AND SHARES INFORMATION JUDICIOUSLY NURSE
3.1 Respects the individual's right to privacy of their personal information
3.2 Maintains confidentiality of privileged information except in life threatening situations and uses discretion in sharing information.
3.3 Takes informed consent and maintains anonymity when information is required for quality assurance/ academic/legal reasons
3.4 Limits the access to all personal records written and computerized to authorized persons only.
4. NURSE MAINTAINS COMPETENCE IN ORDER TO RENDER QUALITY NURSING CARE
3.1 Respects the individual's right to privacy of their personal information
4.2 Nurse strives to maintain quality nursing care and upholds the standards of care.
4.3 Nurse values continuing education, initiates and utilizes all opportunities for self development.
4.4 Nurses values research as a means of development of nursing profession and participates in nursing research adhering to ethical principles.
5. THE NURSE IF OBLIGED TO PRACTICE WITHIN THE FRAMEWORK OF ETHICAL, PROFESSIONAL AND LEGAL BOUNDARIES
5.1 Adheres to code of ethics and code of professional conduct for nurses in India developed by Indian Nursing Council
5.2 Familiarizes with relevant laws and practices in accordance with the law of the state
6. NURSE IS OBLIGED TO WORK HARMONIOUSLY WITH MEMBERS OF THE HEALTH TEAM
5.1 Adheres to code of ethics and code of professional conduct for nurses in India developed by Indian Nursing Council
5.2 Familiarizes with relevant laws and practices in accordance with the law of the state
7. NURSE COMMITS TO RECIPROCATE THE TRUST INVESTED IN NURSING PROFESSION BY SOCIETY
7.1 Demonstrates personal etiquettes in all dealings
7.2 Demonstrates professional attributes in all dealings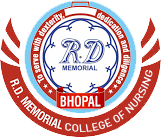 Address:- Barkhedi Kala, Bhadbhada Road, Bhopal- 462 044
Phone :- +91 755-2696635, 9340298554
Email :- rdmcnurisng@gmail.com